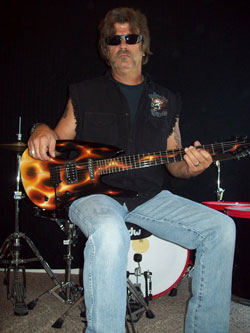 CSG Guitars, LLC is the brain child of our founder, Rick Channell and was formally started in 2010, but it has a longer history of development.
In the early 1990's we were known as Channell Star Music located in the rapidly growing town of Rockwall, Texas.  At this time we were selling various musical instruments ranging from drums to guitars, selling parts, providing repair services and offer music lesson, especially on drums, as Rick is a drummer by nature.  This is when the concept of a custom guitar first came to light.  In 1993, we came up with our first original design and we will be bringing this design back to our line of guitars.
We went through many changes over the years, leading to CSG Guitars, LLC. as it is today.  We continue to pursue our desire to create custom guitars and bass's for those that desire something unique.
Rick also has been and continues to be a member of various bands, generally playing the drums as he has in the past.